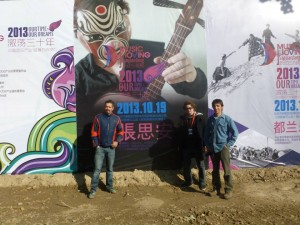 Djang San + Band has so far played the "Croisements Festival", the "Sanjianfang" festival, the "Dong Dong" festival, the "Hanggai" festival and many more.
 The band has released two ground breaking albums in 2013 and 2014.
In the year 2000, when he first came to Bejing, Zhang si'an (Jean-Sébastien Héry) wrote his first song in Chinese.
Many albums, partly or completely in Chinese, will follow.
Jean-Sébastien Héry was, believe it or not, one of the first foreigner to write songs in Chinese and to sing those songs to a Chinese audience in Beijing. He also probably was the first to use a Chinese musical instrument, "Zhongruan" to play jazz songs.
From 2002 to now, Djang San has completely changed the way the zhongruan is regarded in and outside in China, becoming the first to extensively change the use of the instruments for modern music styles such as Jazz, Rock, Electro, Blues, Fusion and more. In 2014, Djang San even found a way to electrify the instrument in order to bring it closer to the future.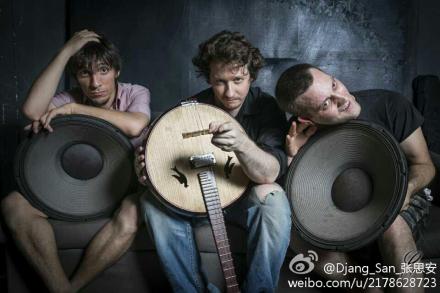 At the Beijing Daze festival 'Daze Feast) in Beijing in 2014.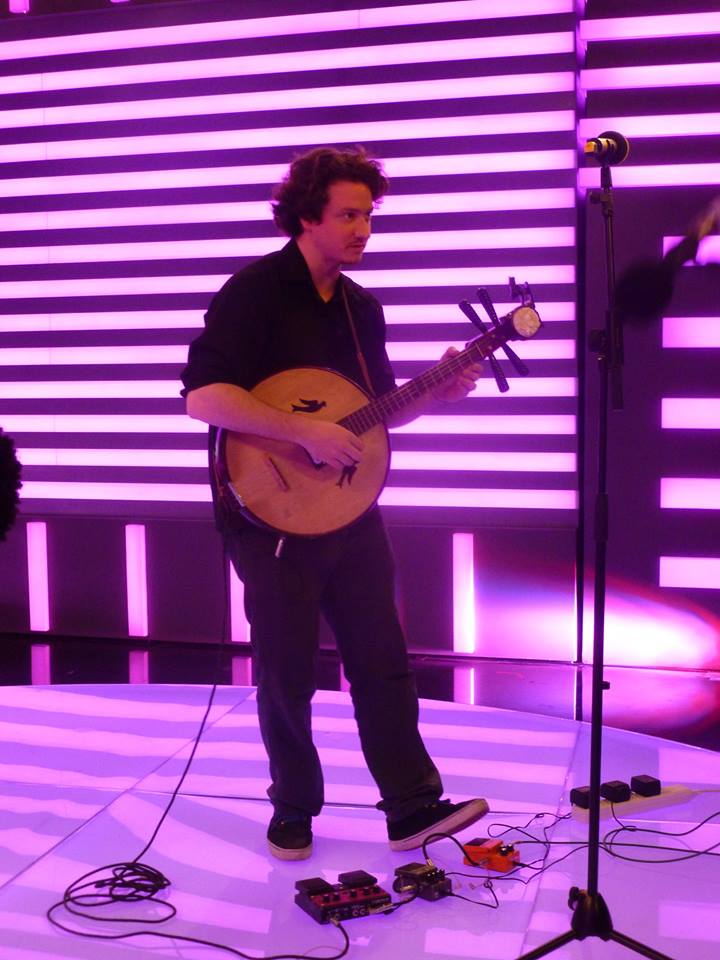 On Chinese TV (CCTV-F) in 2014.
In the year 2000, Zhang Si'an meets with most of Beijing's underground music bands and artists of the time and gets influenced by there music: « Wild Children », « Second Hand Roses », « Xiaohe », « Buyi », « Cold Blooded Animal », « Wang Juan », « Wan Xiaoli »….In 2001, he decides to stay in Beijing for a year and plays every wednesday night at the « River » bar, which back then was one of the center of the Beijing underground music and art. The bar was destroyed in 2003.
Travelling almost constantly in China from 2000 to 2004 (Beijing, Shanghai, Lanzhou, Xinjiang, Taiwan….), Zhang Si'an experiments with all kinds of music including folk, rock, electro…
Back to France in 2003, he records his first album in Chinese, « Lotus ». This album is inspired by a trip with the members of the band « Wild Children » and « Water pushing melon » band leader Song Yu Zhe to Lanzhou. Together, they climb the Lotus mountain (Lianhuashan), localized in the south of Gansu (Lian Hua Shan) in order to listen to the songs of a local ethnic minority.
The album includes a remix of the Lianhuashan songs, as well as a tune that Zhang Si'an composed with a Xinjiang instrument called « Rivapu ».
In his next albums, « Is it China » and « Naixin », Zhang Si'an uses ancient Chinses poetry and mixes it with music coming from his own imagination. For example, the songs « Tianjing Sha Qiu Si » (Naixin) and « Jianlou house » (Is it China) use ancient Chinese poems. «  Tianjing Sha Qiu Si  » was written during Yuan dynasty by poet Ma Zhi Yuan, « Jianlou House » corresponds to the poem « Lou Shi Ming », written during the Tang dynasty by poet Liu Yuxi. Jean-Sébastien Héry is the first foreigner to create music with ancient Chinese poems.
The idea of the album « Is it China », is to create a mix between ancient Chinese music and culture and modern Western music by using Chinese music instruments such as « Zhong Ruan », or « Hulusi » as well as traditional rock instruments such as guitar, bass, and drums. On that album (and for most songs he wrote), Zhang Si'an recorded all the instruments himself. On some of the songs, singer Liu Hong joined him. Jean-Sébastien Héry was probably the first foreigner in China to write songs using a Zhongruan.
The next album, « Naixin », more accoustic, is mainly a series of songs composed on guitar and zhongruan. The album follows the same idea as « Is it China », with perhaps more influence from Blues and Electro music.
In 2007, artist « Chen Zhuo » asks him to write music for her sculpture exposition « Born in the 80's » that takes place in Tianjin the same year. These music recordings will lead to the release of the EP « Rêves d'enfance».
In 2006, as he comes back to live in Beijing, Zhang S'in meets with Ghana percussionist Sunny Dee and Benny Oyama, young American guitar player from New York. Together they create « The Incredible JSB! », which purpous is to create a mix of musical styles ranging from Jazz to Rock, Bossa Nova, Reggae, and Chinese Folk. In between 2006 and 2010, the band released one studio album «Mad in China » and two live albums.
Zhang Si'an initiated several projects in Beijing including:
Djang San (Zhang Si'an) (Solo project in Chinese)
Djang San (Zhang Si'an) + Band.
The Incredible JSB! (World music trio with Sunny Dee and Mathieu Wahiche)
The Amazing Insurance Salesmen (Indie Rock, in English)
The Maix Jazz band
Zhang Si'an also played at the biggest Chinese music festival such as the « Midi festival », the "Zebra festival" in Chengdu,  the « Ditan park festival », the "Croisements" festival and many more.
All of  Zhang Si'an and « The Incredible JSB! » albums are now for sale on bandcamp here: