Newsletter: The AIS this friday at 2 Kolegas
Hi Everyone !
Gig:
Several things this week. First, The Amazing Insurance Salesmen will be playing this friday night at 2 Kolegas alongside Arrows Made of Desire, Ghost Spardac, and Candy Monster.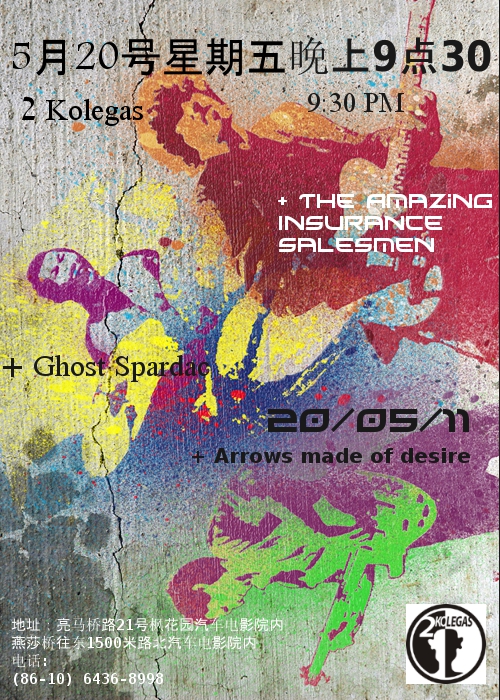 (Picture by Sébastien Mahon http://sebastienmahon.canalblog.com/)
Blog:
We wrote a blog on The Amazing Insurance Salesmen trip to the Zebra festival in Chengdu on China Music Dish, check it out !
The Amazing Insurance Salesmen Rocking Out Loud In Chengdu's Zebra Festival
Guitars were tuned, ties adjusted and nerves abandoned. It was time to do our thing in Chengdu!
By Maikel Liem
Link:
http://www.musicdish.com/mag/?id=12920
Zhang Si'an:
After i played with my folk project at the Ditan Park folk festival last week, i got interviewed by Niurenku. On the same video, Lidong gets interviewed:
http://v.youku.com/v_show/id_XMjY3NDYwNjM2.html
————————————————————————————————————————————————-
Thanks for your support !
www.zhangsian.com
Check The AIS on the internet:
www.myspace.com/amsalesmen
www.myspace.com/zsian
http://site.douban.com/baoxianchaoren/
http://site.douban.com/zhangsian/