The Zhang Si'an Newsletter: GBOB, give us your advice !
Hi Everyone !
As you may already now, The Amazing Insurance Salesmen are going to compete in Kuala Lumpur against the rest of the world and try to become the "World's new best band".
The event will take place in Kuala Lumpur on the 26 of February 2011.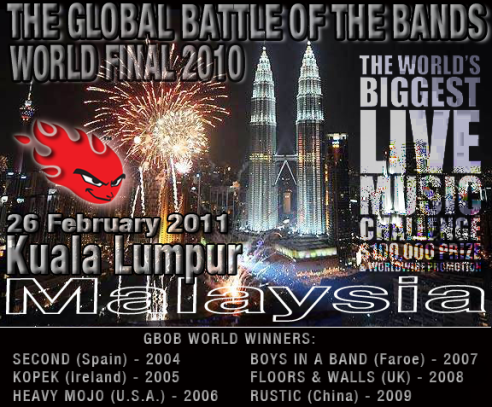 As we are now preparing for the big event, we are asking you, yes you 🙂, to give us some advice on "what should we do in order to become world champions ?"
You are welcome to give us any advice on that matter. In order to help you make your mind about this, go to www.gbob.com and check all the other bands competing with us.
We will take all advice into account, and will publish the best advices on the Zhang Si'an website as well as in one of the next newsletter.
————————————————————————————————————————————————-
Thanks for your support !
All my albums are for sale on itunes and Amazon.com (look for "Zhang Si'an" or "The Incredible JSB!")
http://www.amazon.com/gp/product/B001OSEWOC/ref=dm_sp_adp?ie=UTF8&qid=1270114807&sr=8-3
http://www.amazon.com/gp/product/B001O4B5P0/ref=sr_shvl_album_1_artist_rd?ie=UTF8&parent=B001OIOL02&qid=1284355367&sr=301-1