Newsletter: Zhang Si'an at the Ditan Park festival (and videos from Zebra)
Hi Everyone !
Like last year and the year before, i'll be playing at the "Ditan Park Festival" on the 7th of May.
Many acts this year, here is the line-up:
On the 7th:
旅行者(lvxingzhe) \ 小河 (Xiaohe)\ 张佺(Zhangquan) \ 阿基奈(A jinai)\叶尔波利(Yerboli)\镜子\立東乐队(Lidong) \ 浪荡绅士\刘堃\BloodyWoods(中国) \ 胡爱唯\张思安 \ Nicolas(希腊) \ Malika(加拿大) \ Nancy J Brown(英国)
On the 8th:
万晓利 (Wan Xiaoli)\蕾蒂与杰特曼乐团 \山 人(Shanren) \ 张岭的蓝调乐队(Big John Blues Band)\ 林天然\钟立风(Zhong Lifeng)\马条\川子\杨嘉松\都兰(Dulan) \张羿凡\ AfrokokoRoots(非洲) \ Kamila(加拿大) \ No name(吉普赛爵士)\ Blackwater(爱尔兰民谣)
For more infos, go to http://www.timeoutbeijing.com/features/Music/11657/Dong-Party-Ditan-Park-Folk-Festival.html or http://www.douban.com/event/13528186/ or  http://www.musicdish.com/mag/?id=12906 and http://www.thebeijinger.com/events/2011/Apr/Ditan-Folk-Festival-2011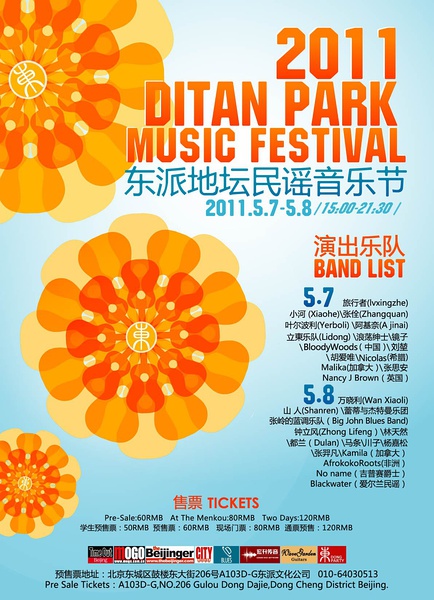 Find videos of the Zebra festival in Chengdu, where "The Amazing Insurance Salesmen" played last Monday at this address:
http://www.tudou.com/programs/view/3m8-UhM2y5g/
————————————————————————————————————————————————-
Thanks for your support !
www.zhangsian.com
Check The AIS on the internet:
www.myspace.com/amsalesmen
http://site.douban.com/baoxianchaoren/