Playing this thursday at D22 with Marianne Dissard
Hi everyone,
I'm playing this thursday at D-22 with two other bands,  "Marianne Dissard" (France-USA) and "Reload" (China)
I'll be playing my new Electro-folk stuff as a one man band building all the songs live using loop machines, a keyboard, a guitar, my voice, and Chinese instruments.
If you don't know what to do with yourself this thursday and see something different, this could be it.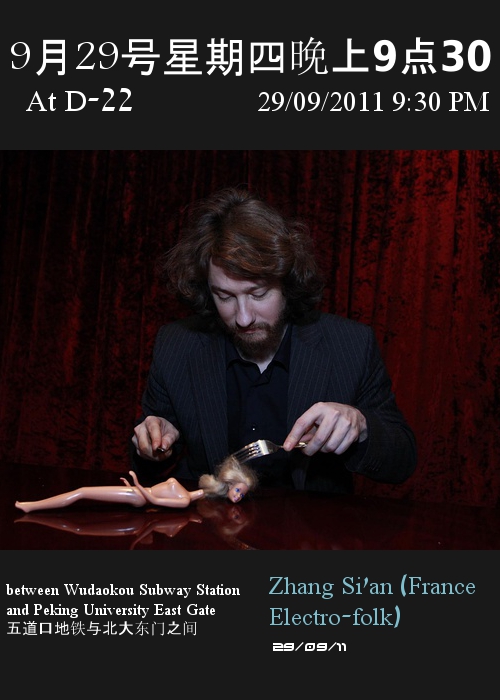 Here is a presentation for Marianne Dissard: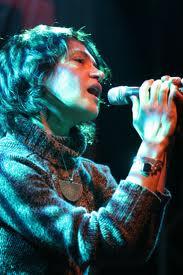 Tucson chanteuse MARIANNE DISSARD's last Beijing dates Sept 29th @ D-22 with Reloads & ZHANG SIAN + Sept 30th @Tushuguan 98.

Just off the Black Rabbit festivities, 
French-born, Tucson-based chanteuse
Marianne Dissard presents her new album, "L'Abandon", a cliff-hanging liaison between Chanson and Americana on two final solo shows in Beijing at D-22 on 9/29 with Reloads and compatriot JS Héry's solo project, Zhang Sian and the next evening 9/30 at Tushuguan98 . The performance includes background video projection from Marianne's film "Lonesome Cowgirls", a western inspired by Andy Warhol. The chanteuse is spending three weeks in China this month, arriving by transsiberian from Europe and performing in Beijing, Jinan, Commune By The Great Wall and Shanghai, including two dates at the Black Rabbit Festival. A Beijing recording is also in the works.
9/29 @ D-22 – http://www.beijinggigguide.com/en/gig/2326/21:00:00
9/30 @ Tushuguan98 – http://www.thebeijinger.com/events/2011/Sep/Marianne-Dissard-Live-Happening
LOCAL PRESS –
Extensive interview for City Weekend Magazine : http://www.cityweekend.com.cn/beijing/articles/blogs-beijing/the-beat/interview-marianne-dissard-black-rabbit-music-festival/
Extensive interview for Global Times : http://www.globaltimes.cn/NEWS/tabid/99/ID/675386/James-Tiscione-speaks-to-Tucson-raised-tornado-Marianne-Dissard.aspx

VIDEOS –
The One And Only – http://site.douban.com/widget/videos/3494813/video/65592/
Interview & Solo Performance – http://site.douban.com/widget/videos/3494813/video/71595/
LINKS –
DOUBAN – http://site.douban.com/mariannedissard
OFFICIAL SITE – http://www.mariannedissard.com
FACEBOOK – http://www.facebook.com/mariannedissard
CHINA 2011 SOLO/VIDEO TOUR –
14 Sept 2011 – Beijing – Yugong Yishan with Zhang Sian
15 Sept 2011 – Commune By The Great Wall – TransmitChina Conference
17 Sept 2011 – Beijing – Black Rabbit Festival
18 Sept 2011 – Shanghai – Black Rabbit Festival
23 Sept 2011 – Jinan – Banjo Bar
29 Sept 2011 – Beijing – D22 with Reloads and Zhang Sian
30 Sept 2011 – Beijing – Tushuguan 98