When Folk Meets Electro @ Yugong Yishan 8 Sept. 2012 9:30 PM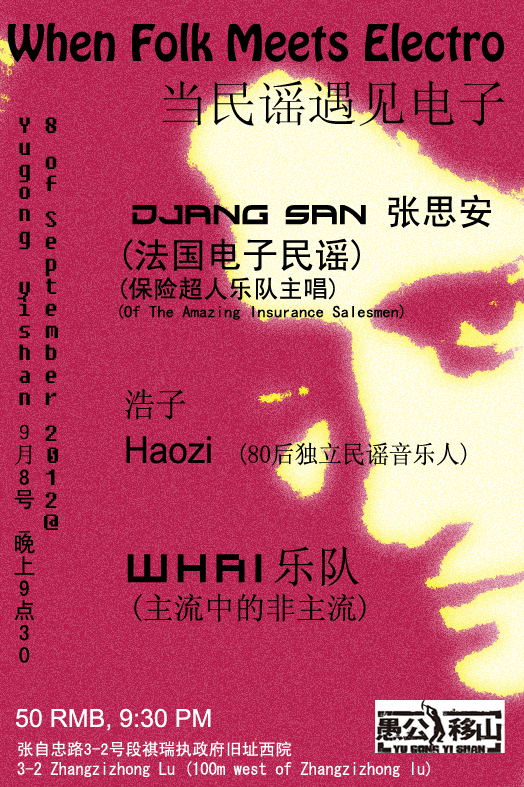 WHEN FOLK MEETS ELECTRO
DJANG SAN / WHAI / HAOZI
Djang San
from The Amazing Insurance Salesmen brings on his Electro-Folk project to Yugong Yishan, sharing the stage with one of Beijing most inventive underground band
Whai
, and folk musician
Haozi
.
Djang San

(Zhang Si'an, Jean-Sébastien Héry)

has already released 14 albums and live recordings and constantly continues writing and recording music. His solo project, more than electronic and folk, is a mix between genres, cultures and styles, a one man band which originality and inventiveness goes beyond music itself.
Born in Bordeaux, France, he first came to China In the year 2000 and wrote his first Chinese song. Many records of different styles, fully or partly in Chinese, will follow. In 2010 he wins the Global Battle of the Bands in mainland China and Hong Kong with his rock band "The Amazing Insurance Salesmen".
After studying violin as a kid, he started playing music again at the age of 15 as a way to get rid of Teenage angst, Djang San became a self taught musician, jazz, rock and folk guitar player, composer and producer of his own music. He has found his own way of playing Chinese instruments such as Zhongruan and Hulusi, playing with a new approach. On stage he manages to play five different instruments and devices, sometimes building songs in front of the audience, sometimes mixing samples with improvised ideas.
Whai
was founded in 2012 by three artists from different Chinese ethnic minority backgrounds, each playing original music with distinctly Chinese elements. Whai plays a mixture of trip hop, dance, Chinese folk, psychedelic, avant-garde, experimental, rock, industrial, techno and noise. However, their sound cannot be boxed into one category; it flows free like the songs' subject matters which range from China to phoenixes to the meaning of life. Whai's music is dark yet dreamy, transporting those who listen to a mysterious world where any thing is possible.Like its members who do their own thing despite societal pressure, Whai's music refuses to be shaped by rules and pre-determined norms.
Whai also incorporates techno music, thanks to special guest member Mickey Zhang. Mickey Zhang is one of the most influential DJs in Asia, who's influence on the Asian, especially the Chinese electronic music scene, cannot be overstated. Those who choose to listen can fly to another world while moving to the beats. Whai is the alternative in the popular, it's the newest and most underground band out there today.
Haozi
is a Post-1980 Generation Indie Folk Musician
. His
solo EP
Foreign Lands
released in 2003, and
Participated in the Taiwan Campus Folk Music Trip
in 2007. He b
egan traveling and creating a new album
from 2008. In
2009
,
he r
eleased the single
Traveling Horse
, and r
eleased a collection of poetry titled
A White Balloon Flies out the Window
and solo album
Sister Doe
in this year.
Pm 9 // Rmb 50
当民谣遇见电子
张思安 / WHAI / 浩子
保险超人主唱

张思安

带着他个人的最新电子民谣项目,与本年度最新、最地下乐队

WHAI

和民谣音乐人

浩子

一起,在愚公移山与你分享民谣与电子相遇的夜晚。
张思安

,

Djang San

,他是法国人,喜欢中国的民族乐器,于是他自学中阮,用一曲《奔放的马》改变了中阮外表憨厚、声音柔美的历史角色,甚至用弹爵士乐为中阮赋予华美、奔放、热情的特质。
作为一名在北京享受国际音乐文化的音乐实验者,他放好自己各式各样的音乐实验仪器,像无数次每个表演开始前一样,给大家看他新发明的音乐产品。与众不同的是,每次的实验,他都会把新加入的音乐试剂产生的化学反映,展现给大家看,观众在享受新出炉的音乐产品的同时,他享受的是制作过程。就这样,日复一日,一次又一次的实验,一个又一个的音乐产品。如果有一个仓库来放他的音乐的话,来访者也许会喜欢他的装修。
WHAI(发音"坏")
成立于
2012
年,由三位少数民族艺术家组成,致力中国原创音乐,乐风融合了
trip hop
、
dance
、
chinesefolk
、迷幻,
advant-garde, experimental
,
rock
,
industrial
,
noise
等等。
主要代表作《中国》
,
《凤凰》
,
《天蝎》。
WHAI
的音乐所表现的思想真的很细腻、乐风很有味道,不仅给你带来感官上的刺激和满足,同时产生思考的欲望。你闭上双眼,就会感觉那种乐曲的冲击,至到有种梦幻飞翔般的意境,音乐同时有一份典雅的气质,在你幽静中给予思考的动感美。
WHAI
的音乐并没有承袭旧式摇滚那种简练精干的旋律表达,而是创造了一种更为流畅自由的方式。
WHAI
是主流中的非主流,是中国最新、最地下的新地下乐队!
浩子

,
80
后独立民
谣
音
乐
人。
2003
年
发
行个人
EP
《异国》,
07
年参加台湾校园民
谣
音
乐
之旅。
2008
年开始一系列的行走,以及新的
专辑
歌曲的
创
作。
09
年
发
行
单
曲《旅
马
》,
2012
年
发
行
诗
集《白色气球
飞
出窗外》
和个人
专辑
《
Sister Doe
》。
晚
9
点
// 50
元