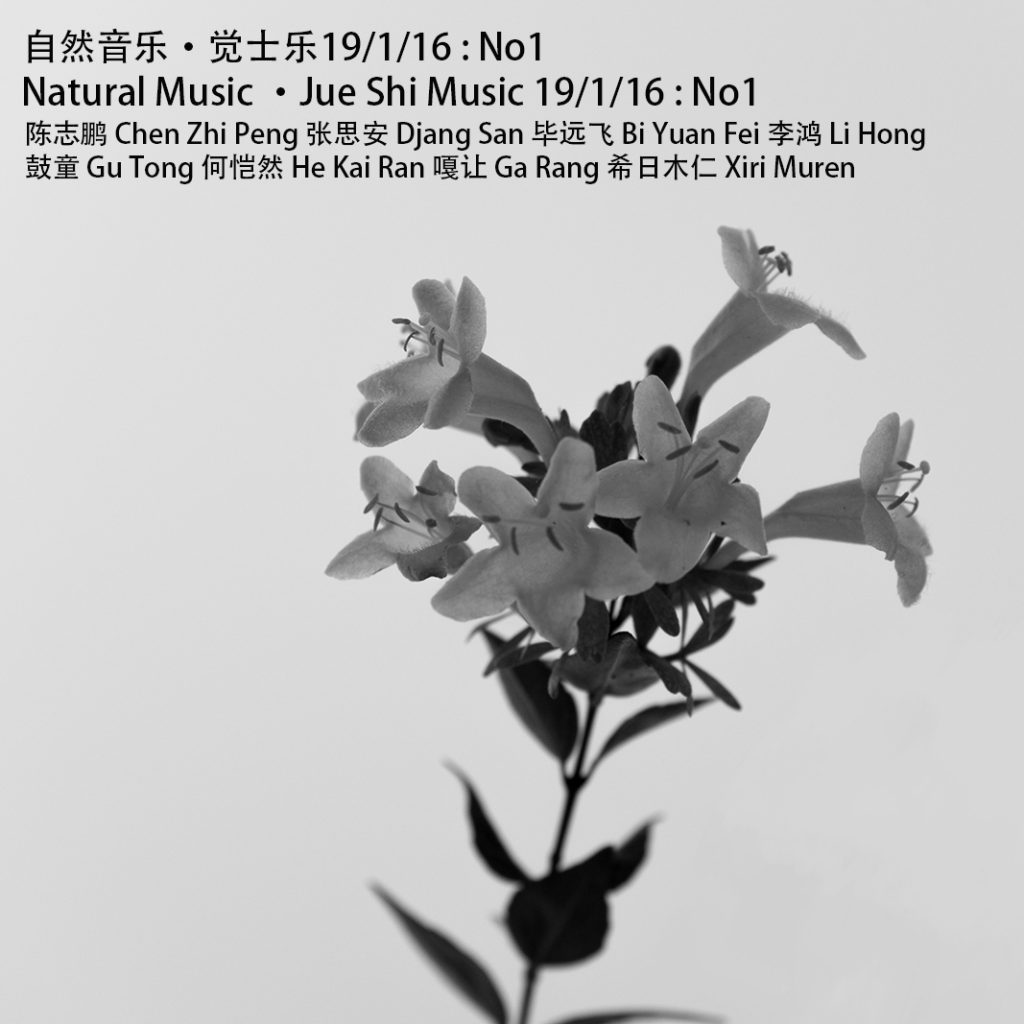 自然音乐·觉士乐19/1/16 : No1 – Natural Music · Jue Shi Music 19/1/16: No1
Recorded in Beijing in January 2019, this album is a collaboration in between several artists living in China. The music was improvised on the spot in a studio in Song Zhuang, Beijing, under the concept of "Natural Music" developed by artist and musician Chen Zhi Peng.
Produced by Chen Zhi Peng 制作人陈志鹏
Mixed and Mastered by Djang San
Cover photo by Clancy Lethbridge
Djang San is playing Zhongruan here.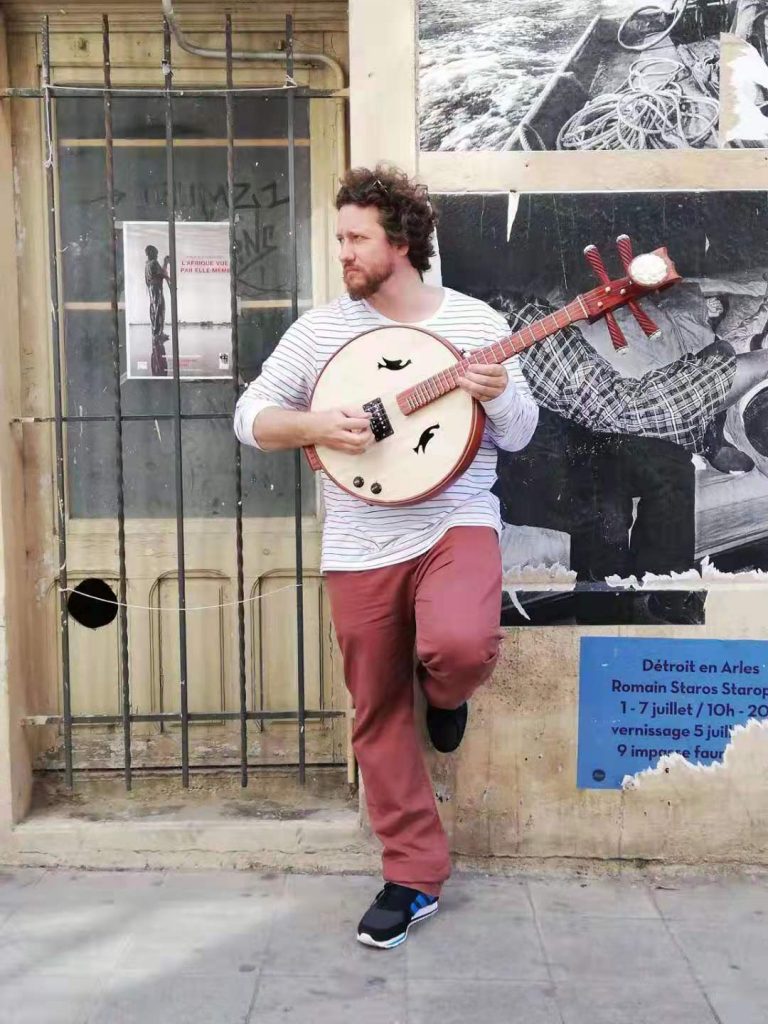 Here are all the other artists on the record:
Chen Zhipeng
Natural artist, international musician, natural music promoter, and natural parenting education advocate.
Born in a family heavily involved with art and education, he grew up in a literary environment studying Eastern and Western art from an early age. He has participated in and promoted the development of folk songs, world music, cross-border culture and art in China.
He has been engaged in the research, creation and education of natural music art, and established the "Natural Music Center", the "Music Sound" cultural communication, and the "Nature Perception", a Chinese brand that promotes natural art and culture, natural parenting, and nature education. For many years, he has advocated and practiced the inheritance, creation, communication and cooperation of ancient and natural musical instruments. He has starred in domestic and international art films while also having created and produced music for film and television. He has been working with many of the world's nations, world music and diverse arts for many years and is regularly invited to exchange on natural music art and culture around the world.
陈志鹏:
自然艺术家 国际音乐家 自然音乐发起人 自然养育教育倡导者
出生于艺术与教育世家,成长在文艺环境,自幼学习东西方艺术。曾参与和推动民谣、世界音乐,跨界文化艺术在中国早期的发展。
一直从事自然音乐艺术的研究、创作和教育,创办"自然音乐中心"、"乐音自然"文化传播、"自然感知"中国品牌。推动自然的艺术和文化,自然养育、自然教育。多年倡导并践行古代及自然乐器的传承和创作,交流与合作。曾主演国内外艺术电影并创作、制作影视音乐。长年携团队和世界民族、世界音乐及多元艺术合作,受邀在世界各地交流自然音乐艺术与文化。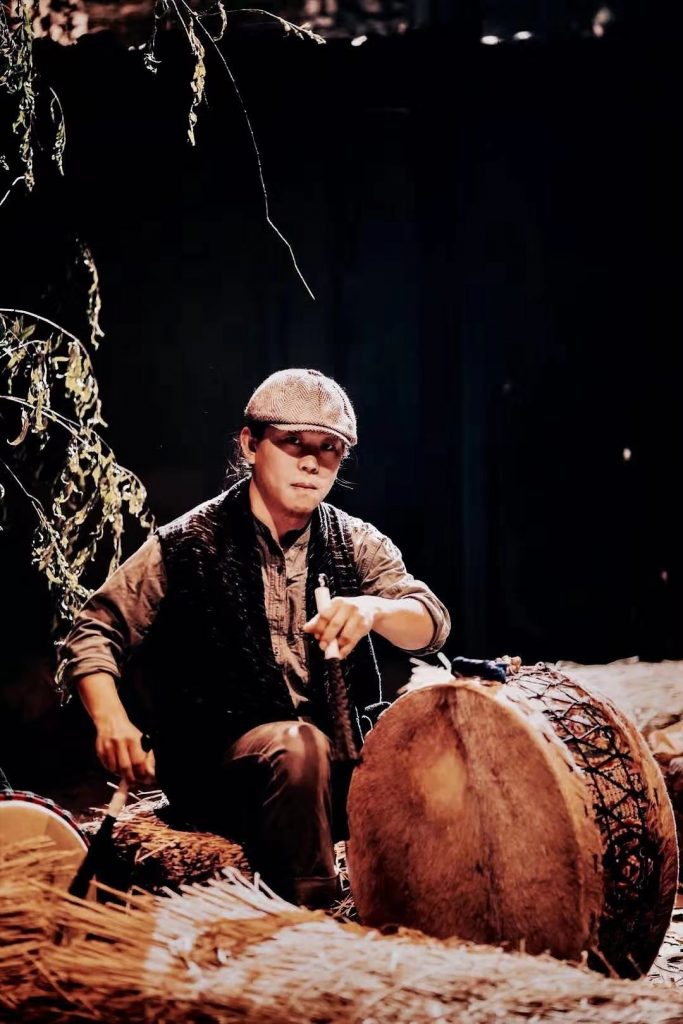 Bi Yuanfei:
In charge of percussion for the "Natural music culture" concept.
He graduated from the Art College of Inner Mongolia University and worked in the Cultural and Art Corps of the Mongolian Military Division of the Beijing Military Region. He has formed the Geer band, the Dewuhe band, and has cooperated with poet Mo Xizi, Lvxingzhe band and others.
He has a great ability in expressing emotions with rhythm with a unique insight into percussion. He agrees that, "life is a process of cultivation and drumming is also a process of self-care. I love natural music, to listen to the natural vibration frequency of the drums rhyme and to let the rhythm of the drums and the earth resonate with each other."
毕远飞:
乐音自然文化打击乐负责人.
毕业于内蒙古大学艺术学院,曾就职北京军区内蒙古分军区政治部文工团。组建过将格尔乐队、德乌禾乐队,并与莫西子诗、旅行者乐队等团队合作。
他擅长用节奏表现情绪,对打击乐有独特见解,认同"生命是一个修炼的过程,打鼓亦是自我关照的过程"。喜爱自然音乐,聆听鼓韵的自然振动频率,任由鼓皮与大地的律动相互共鸣。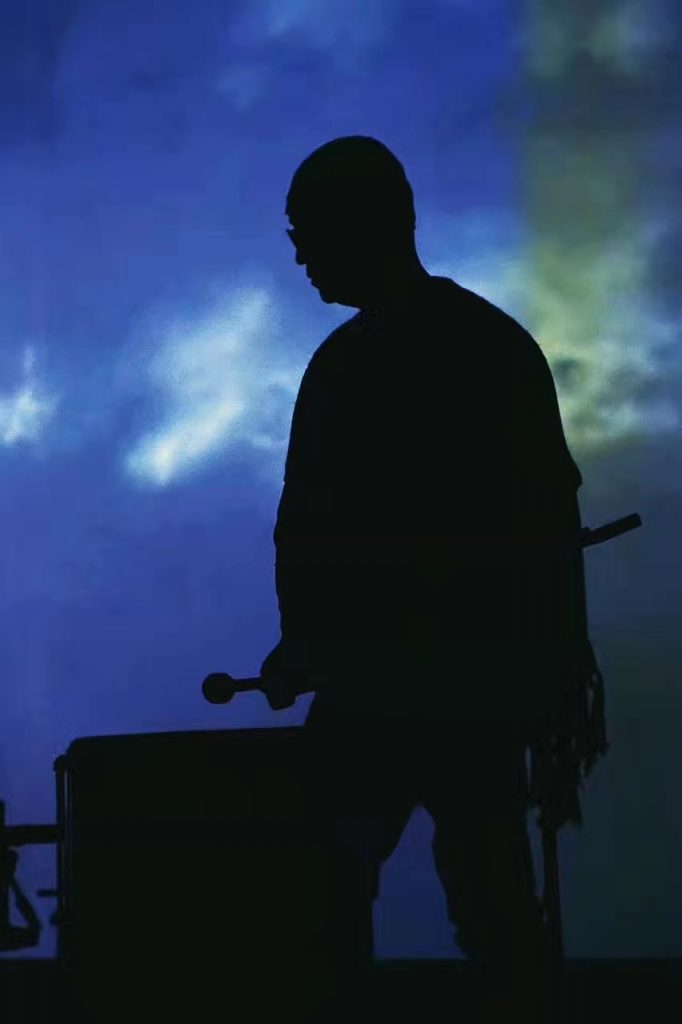 Li Hong:
He's a percussionist from China's first generation of drummers.
"When I was a teenager, I studied percussion at the Beijing Children's Palace Symphony Orchestra. At the age of 20, I began to learn drums.
After 1995, I created my own company to develop electronic drums. In 2003, I began to learn to promote African drums and other percussion instruments."
In 2004, he participated in the Toning International Percussion Orchestra. In 2005, he signed a contract with SABIAN China, and in the same year participated in the establishment of Pearl International Percussion Culture Communication Center.
"In 2006, I began to study the use of environmentally friendly materials to make African drums until now. At the same time, I also studied synthetic materials to make Djembe drum skins, simulating the sound effect of animal skin."
In 2009, he formed the band "Hoochie Coochie Gentleman" and served as a drummer. In the same year, he registered his own African drum brand "Zebra Djembe". In recent years, he has mixed the art of multi-world root percussion by integrating it into the concept of "Natural Music".
李鸿:
打击乐演奏家,中国第一代鼓手。少年时在北京市少年宫交响乐团学习打击乐,20岁开始学习架子鼓。1995年后创建自己的公司开发电子鼓。2003年开始学习推广非洲鼓及其他打击乐器。
2004年参加托宁国际打击乐团,2005年签约SABIAN公司中国区代言人,同年参与创办珍珠国际打击乐文化传播中心。
2006年开始研究用环保材料制做非洲鼓,直到现在。同时也在研究合成材料制做Djembe 鼓皮,模拟动物皮的声音效果。2009年组建浪荡绅士乐队,兼任鼓手,同年注册了自己的非洲鼓品牌Zebra Djembe。近年来,他将多元世界根源打击乐艺术融入到自然音乐现场。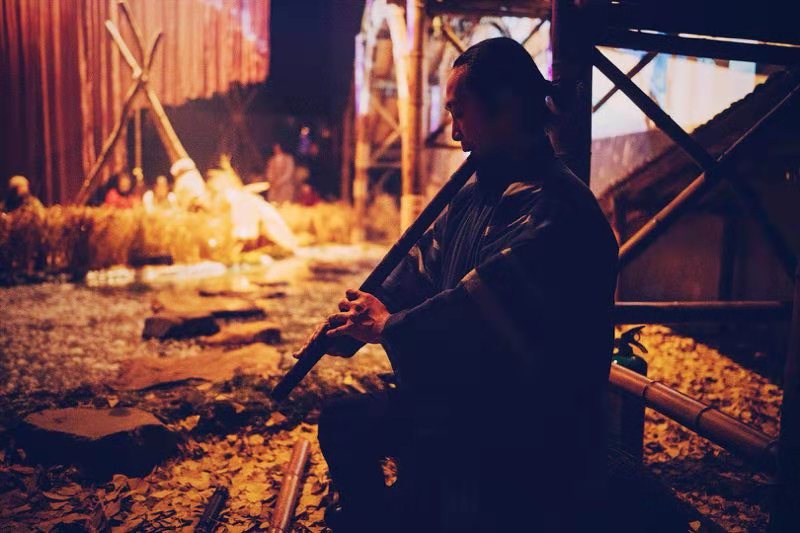 Gu Tong "Drum boy":
Director of the Instrument and culture department for the "Natural Music Sound" company.
Player of percussion and wind instruments.
Has established the earliest African drums orchestra in Beijing.
In 2017, after moving to Dali for more than ten years, he began to study the ancient Chinese harmony system and serves now as the director of musical instrument production for the core team of the "Natural Music" concept.
鼓童:
乐音自然-乐器文化部总监
擅长打击乐及管乐
曾在北京组建最早的非洲鼓队
后移居于大理潜心制鼓十余年
2017年开始研究中国古代音律,担任自然音乐核心团队乐器制作总监。
He Kai Ran:
Instrument director for the "Natural Music Center".
He Kai Ran has studied orchestration and percussion at the Conservatory of Music in China.
He has participated in the 4th National Percussion Competition while he was still studying and won the gold medal in the professional category, which got him to win several scholarships.
He has participated in the special concert of the Youth Orchestra of the National Academy of Music, "Chunhua Qiushi", of the Tianjin Conservatory of Music, participating in the performance of Bartok's opera "Duke Bluebeard's Caslte" directed by the famous conductor Tang Muhai, and participated in the opening and closing of the Tianjin May Music Festival many times.
On June 14, 2013, he successfully held a solo percussion solo concert.
Deeply in love with World Music he formed the World Fusion Music band "Samaga". Over the years, he has collected and studied a lot of the World's ethnic musical instruments. He also plays the Harmonica, the Mbira, and many other percussion instruments of different ethnies from around the world, and performs with many musicians from around the world.
何恺然:
He Kai Ran:Percussions / Kaval…
"自然音乐中心"乐器导师
曾在音乐学院专业学习管弦乐及打击乐研究生,在校期间参加了第四届全国打击乐比赛,荣获专业组金奖,并多次获得奖学金。参加国家大剧院春华秋实天津音乐学院青年管弦乐队专场音乐会演出,参加由著名指挥家汤沐海所指挥的巴托克的歌剧《蓝胡子公爵的城堡》演出,并多次参加天津五月音乐节开闭幕式演出。2013年6月14日,成功举办个人打击乐独奏音乐会。
热爱世界音乐,组建世界融合音乐组合Samaga乐队。多年来对世界民族乐器进行收集与研究,并演奏口弦琴、Mbira,以及其他多种世界民族打击乐器,并与许多世界音乐家合作演出。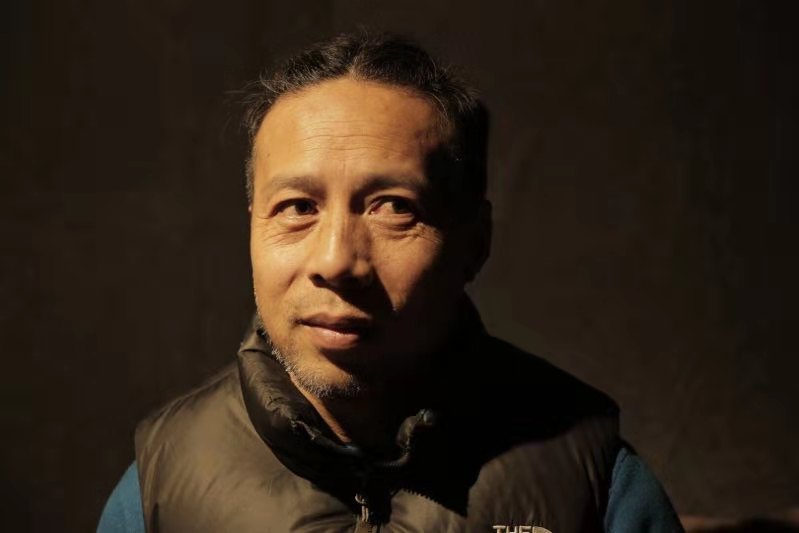 Ga Rang:
Born in 1975 in Ningxia Hui Minority Autonomous Region, Gansu Province.
Studied painting at the Northwest University for Minorities in 1999.
Came to Beijing in 2001
In 2007 also that year, he began to organize his folk songs.
嘎让:
1975年生于甘肃省宁夏回族自治区和政县
1999年就读于西北民族大学学习绘画
2001年来京
2007年开始整理习唱家乡民谣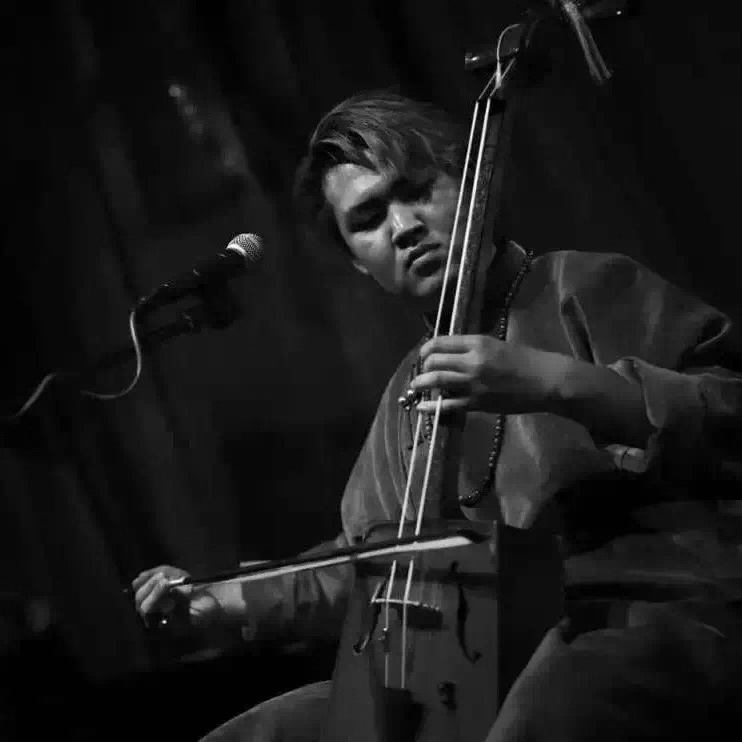 Xiri Muren:
Independent Musician
Matouqin player, music producer.
He plays a combination of Mongolian traditional music and modern music.
He Graduated from the Music Department of Inner Mongolia University Music School in 2015, specializing in Matouqin performance.
He played for NMY Matouqin Orchestra, Devkh Band, Rid Band, Milk Tea Band, and Loud Music Orchestra.
希日木仁:
希日木仁独立音乐人
马头琴演奏员,音乐制作人。
蒙古传统音乐与现代乐音科技的结合者,2015年毕业于内蒙古大学音乐学院音乐系马头琴表演专业,曾效力于NMY马头琴乐团,Devkh乐队,Rid乐队,奶疙瘩乐队,肆声乐团。